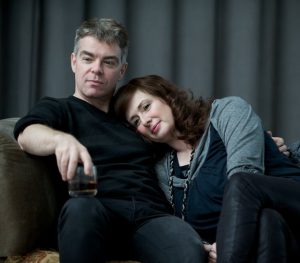 ANYTHING BUT LOVE
Review by Peter Crawley
A new play at the reopened Belltable Arts Centre in Limerick combines the history of an unchanging city with a musical backdrop – but, says its writer, it's certainly not a melodrama
EVERYTHING CAN change in two years. That has certainly been the experience of Vincent O'Regan, a character in Mary Coll's new play, Anything But Love , whose first-draft existence in 2008 was as a property developer steeped in affluence and influence – the kind of man who might keep a helicopter idling in his garden.
By the time he staggered into the rehearsal script for the production that sees the grand re-opening of Limerick's Belltable Arts Centre this week, his fortunes were perhaps more commensurate with those of his nation: a beaten, shamed and chronically dissembling figure.
In almost precisely the same period of time, the Belltable has undergone a radical transformation. In a long and extensive refurbishment, everything bar the O'Connell Street venue's facade (a listed Georgian structure) has been redeveloped.
But its vast improvements have not come without consequence. Moving to a much smaller off-site space on Cecil Street, the Belltable reduced its capacities shortly after the demise of Island Theatre Company, and there has been a noticeable ebb in Limerick's theatrical output since – stemmed valiantly by the Belltable's Limerick Theatre Hub project last year, together with the battling spirit of a new company, Bottom Dog.
Based on Kate O'Brien's 1934 novel, The Ante-Room , a story of an unchanging Limerick – and, by extension, Ireland – in the 1890s, where passion is subjugated to punitive Catholicism, Coll's play might be expected to make some sweeping refurbishments of its own in a theatrical transplantation to 2010. If anything, though, the writer was struck by the story's modernity, which she first encountered as a Masters student of The Social Environment of the Novel.
"If a writer gets you at your formative years, they have you forever," Coll reflects over lunch with her director Joan Sheehy, who is also the show's producer.
"You come back to O'Brien at different stages and realise there was a great complexity to her writing, a great courage and hugely modern themes that are dealt with, but hidden, within the framework of a novel in Ireland in the 1930s and 1940s. And, to be honest with you, it's a thumping great story."
Coll has retained the substance, structure and tone of that story, although some of the names have been changed in the name of plausibility.
Two sisters, Annie and Marie-Rose, are in love with the same man, Vincent, to whom Marie-Rose is married. They are reunited at home in the dying days of their domineering mother, simmering with secrets and tensions stoked by their brother, a dissolute musician with a terminal disease.
The book unfurls over three days – All Saints' Eve, All Saints' Day and All Souls' Day – significant dates to O'Brien's Agnes, who would leave her passions in the confession booth, but ones that make a dim impression on her modern counterpart Annie, who is now "out of touch with the holy days", reminded only by her mother's Polish nurse, Kalena.
"It's gone," Coll says of the religion that both sustains and suffocates. "I don't know many people who make decisions based on the Catholic faith. Emotional relationships haven't changed. People haven't changed. They're the same people they were in 1890. But where's your moral compass?"
In part, the characters are guided more perceptibly by music. In both O'Brien's novel and Coll's play, the brother is a professional musician, allowing for frequent music cues in the drama – a new score was commissioned from composer Micheál Ó Súilleabháin. "In all of Kate O'Brien's writing, the music is very important," says Coll. "None of the music that she uses is casual or accidental."
This also begs the question of whether Coll's play is naturally a melodrama, combining music and action in a heavy underscoring of emotion and romantic subjects. She is hesitant to agree.
"I don't think it's melodramatic at all really. I know you're talking about melodrama as a form. But it's about a presence. The journey of the play is taken very much through the script, the dialogue, the characters. The music isn't there to tug on your heartstrings or pull you forward." A former director of the Belltable who was prompted to write for drama by the lull in Limerick's theatre scene, this is Coll's second play. "I'm Ireland's oldest, youngest emerging playwright," she jokes.
After their first collaboration on last year's short Excess Baggage , she is working again with Sheehy, a well recognised actress whose directing career also began two years ago "almost accidentally" when she inherited Buck Jones and the Body Snatchers from Island Theatre Company. Sheehy's experience as a performer has helped temper some of Coll's writing. "Mary has a great facility for the sarcastic line, the witty line," says Sheehy warmly, "but the family can't quip at each other all the time. We've had to cut some great lines."
Coll shifts slightly in her seat. "The wonderful thing about having Joan is her measured approach," she responds. "I could run away completely and she pulls me back. I love a line so much, that even in my personal life I can't resist saying it."
There is a music in caustic put-downs too, and it's a fondness that regularly finds Coll being kicked under the table, she admits. "I really didn't mean to hurt you deeply," she will semi-apologise in such circumstances. "But that line was perfect."
Both Coll and Sheehy agree on one thing, though; the importance of their location. "There's a wonderful feeling when your own place is shown back to you," says Coll, "whether that's in a novel or a work of art, and we haven't had a huge amount of that in Limerick."
The changes made to a landmark arts centre, like those made in the adaptation of a landmark novel, are always somewhere between restoration and redevelopment.
In this case, though, they have the same intention; to put the arts in Limerick back on the map.
Anything But Love runs until December 1st at the Belltable Arts Centre in Limerick; belltable.ie
---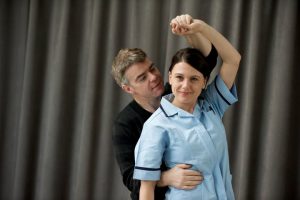 ANYTHING BUT LOVE
Review by Rachael Finucane – a freelance journalist based in the mid-west. Blogging about the arts and culture-local, regional and beyond.
'Anything But Love' is a turbulent family drama with a distinct local flavour (bacon and soda-cake?) It is the first play to grace the stage at the newly refurbished Belltable Arts Centre and embodies one of the centre's main aims—to bring high quality, professional theatre to Limerick audiences.
The short review: I thoroughly enjoyed it. It's a classic three-act structure. It's a modern tragi-comedy and it blends those elements well. As an adaptation, it succeeds because the story would still be interesting set in any period. I thought the writing was tight, intelligent and funny. The overall production design and acting were both superb. It wasn't perfect, but what play is? Any minor foibles didn't take away from the play as a whole. It was sincere in its aim and sentiment and doesn't try to be something that it's not.
I walked out of it feeling satisfied because my attention didn't wander; it made me think and packed an emotional punch. The tickets aren't exorbitantly priced for a production of this standard, considering the cinema costs nearly a tenner and doesn't have half the energy and immediacy of live performance. So it wasn't a rip-off…unless referring to a metaphorical sticky plaster torn off to reveal a wound still open. I think the play is about that emotional scar tissue and that is something that everyone can relate to.
The more detailed review: Loosely based on Limerick novelist, Kate O'Brien's book 'The Ante-Room', the play was written by Mary Coll and directed by Joan Sheehy, also both Limerick-women. The original score is by Micheál O'Suilleabháin of the World Academy of Music and Dance at UL.
Teresa Mulqueen lies dying in her home on the Ennis Road, tended to by her nurse, Kalena (Mirjana Rendulic). Her daughter Annie (Cathy Belton) and son, Ritchie (Malcolm Adams), have returned to their childhood home. Annie awaits the arrival of her sister, Marie-Rose (Caitríona Ní Mhurchú), and her husband, Vincent (Malachy McKenna). This is not a happy reunion to start with, but coupled with the many secrets of the Mulqueen clan, it has the potential to destroy them all.
Marie-Rose's marriage is falling apart and she can't understand why. She turns to Annie for advice, unaware that her sister is in love with Vincent and moved to get away from their doomed affair. Vincent wrestles with his conscience. Ritchie and Kalena look on, each coping with their own issues. The Waltons they ain't!
'The Ante-Room' is a dense read but Mary Coll makes it accessible. Her skill at writing dialogue makes the family interactions natural. The novel is set in the late 1800s and perhaps she stuck a bit too loyally to the material i.e. I thought Vincent's shooting expedition seemed odd in a modern context. She also injects lots of black humour into the story. This family of amateur comedians never met a smart remark they could resist. It is very funny but the comedy jars at times because with some exchanges made entirely of one-liners, it sounds too scripted. The conclusion may be slightly confusing, only because everything happens so fast.
The score was subtle and plaintive, explained away as Ritchie's piano playing. There's also a Ratpack musical interlude in the dancing scene, which was one of the highlights of the play. I saw it on opening night (Nov 26) and there was noise disturbance in the first act of the play, coming from outside the building. It was slightly distracting but didn't continue for the duration. Ferdia Murphy's set and costume design was tasteful. The set seemed very solid (to withstand plenty of door slamming) and economical—just a drawing room and a stairs beyond in the hall. The lighting design by Kevin Treacy was excellent; the passing of time is denoted by the light pouring into the room.
The acting was exceptional all round. In particular, the tension between those in the love triangle is palpable. The family dynamic holds up, but the differences between the sisters made it hard at times. Annie is blonde and fragile, whereas Marie-Rose is tall with dark hair and a commanding presence.
Annie has a delicate, shy and controlled way about her. You can see her feelings are torn between desire and duty. Emotional displays are rare but when they happen, are almost hard to watch in their intensity. Marie-Rose is brash and immediately comes across badly when she dismisses Kalena as "Eva Braun" minutes after her entrance. She revels in her role as the bitch, but doesn't redeem herself. The vulnerable moment in which Marie-Rose is rejected in her attempt to get Vincent to respond, physically if not emotionally, is superbly acted by both.
The only son, Ritchie, is a gay concert pianist recently returned from London. Without Ritchie's liveliness, ABL would be a sombre affair (literally). Malcolm Adams has some of the funniest lines and delivery is spot on. He is kind to Kalena but a rogue with his sisters. The lengths he will go to to secure some kind of legacy are impressive but is he a reformed character or a ruthless schemer?Vincent is witty and charming, but as the play progresses, you can see him unravelling emotionally at the pressure. The tender moments he shares with Annie are offset by heated exchanges with his wife. I thought the character wasn't as well developed as he could have been. A bit more back-story on how and why the affair began might have helped. Kalena plays her supporting role well. The subplot about the 'new Irish' was interesting. Teresa is never seen but her presence is felt through Kalena's references along with the siblings' recollections.
My final verdict on 'Anything But Love' is apparent from the shorter review but I want to add that it was an appropriate production to kick-start a packed new programme for the Belltable and hopefully there will be a lot more quality stuff to come. Good to have the Belltable back.