---
BIO
I trained as an actor in The Actor's Space, New York, which was a two year, full time, conservatory programme under the guidance of Alan Langdon. The training was rooted in the ideas and practices of Stanislavsky and his student Boleslavsky, and influenced by those of people like Nikos Psacharopoulos and Alan Langdon himself.
After graduating, I remained in New York making my Off-Broadway debut in the American Premier of Lovechild at the Irish Arts Center , followed by the American Premier of Public Enemy, which was written by Kenneth Branagh. I also appeared in the Off-Broadway production of Da (by Hugh Leonard) at the Irish Repertory Theater which was directed by Charlotte Moore in the 25 year anniversary of its original Broadway triumph, with Brian Murray in the title role.
Among other NYC appearances, my favourites include Harry and the Cannibals, an original piece by Susan Mosakowski, at the famous La Mama Experimental Theater Center, Edmund in King Lear for Gorilla Rep and the title role in Harry's Christmas, a one-man theatre piece written by Steven Berkoff. During this period I also completed several short films both for independent film-makers and for students from New York University, the New York Film Academy and SUNY at Purchase, as well as fringe roles in I Shot Andy Warhol and Faithful.
America 
Outside of New York, I travelled to Stamford in Connecticut to play Mr Gardiner in Butley (by Simon Gray) at the Rich Forum; onto Hartford where I played multiple roles (No-Good Boyo, Cherry Owen etc) in Under Milk Wood at Hartford Stage Company; Rohan in the American Premiere of The Factory Girls (by Frank McGuinness) for the Williamstown Theater Festival with Kate Burton and Celia Weston, which we then took to the Bay Street Theatre in Sag Harbour.
Back in Ireland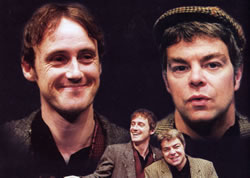 At this point, back in Ireland on holidays, I was cast in Alone It Stands. Written by John Breen and with a cast of six, we set about creating over 80 characters and devising the intricate choreography which this required. Being a play about rugby which depicted the great Munster victory over the mighty All Blacks from New Zealand, we began in small venues and rugby clubs around Ireland and graduated to bigger venues [like Andrew's Lane Theater in Dublin] as word of mouth grew. We went on an 9 month tour of Ireland, including the Olympia and Gaiety Theatres, Dublin and then took the play to the Edinburgh Fringe Festival, playing the Traverse Theater. From there to Tasmania for the 10 Days On The Island Festival [a bi-annual cultural event] and finally to the West End where we ran for 7 weeks at the Duchess Theater. The play had run for over 3 years and I had played the part of Tony Ward, plus about 10 other characters, on nearly 500 occasions. On leaving Alone It Stands, I immediately began rehearsals for an 11 month run of Stones in his Pockets, by Marie Jones, beginning in the Duke of Yorks' Theatre in the West End and followed by a 40 city tour of the UK. I would eventually play Charlie Conlon et al on over 300 occassions.
---
Awards
Since then I've continued to work in Ireland for Rough Magic, Galway Arts Festival, Corcadorca, The Gate Theatre, The Peacock and Abbey Theatres, Yew Tree Theatre, Calypso Theatre, Livin' Dred Theatre, Theatre Royal, Waterford, Lyric Theatre, Belfast and Performance Corporation among others. I'm proud to have been involved in the re-opening of the Belltable Arts Center, Limerick in 2010 and the rebuilt Lyric
Theatre, Belfast in 2011. Between 2005 and 2010 I was nominated four times for an Irish Times Theatre Award, once for Best Actor (Slattery's Sago Saga, Performance Corporation) and three for Best Supporting Actor (Belfry, Livin' Dred; The Taming of the Shrew, Rough Magic; and Only an Apple, The Abbey Theatre).
Other highlights so far was my participation in the 2010 DublinSwell, as UNESCO declared Dublin European City of Literature, when I preformed an extract from Mark O' Rowe's Terminus. Plus, playing Fr Mathew, the Apostle of Temperance, in a play of the same name by Sean McCarthy, produced by The Opera House, Cork and Yew Tree Theatre Company.
---
Off Stage
As a Director, I produced and directed a season of original one-acts by Pamela Scott at the Irish Arts Center, NYC; her first full length play, The Uwrapping of Christmas, also at the Irish Arts Center and a 30 min short film, Standards, based on one of her one-act plays. I directed a version of The Factory Girls for Macalla Theater in the Bronx; and a season of Pinter one-act plays in La Piazza, Covent Garden.
Teaching
As a Teacher, I have taught drama in St Ann's School in Brooklyn Heights and workshops in Priorsfield School, Surrey, England.
---
Sport
One of my proudest achievements, which I never tire of informing anyone who is remotely interested, is that I played hurling for Midleton from the age of 12, winning county medals at Minor, U21, Junior and Senior levels (plus a Munster Seniour medal). I hold the second highest number of East Cork U21 medals (6, one behind Cork star, Kevin Hennessy) and was vice-captain of that team in my final year. I also won Munster medals in both hurling and football at schools' level. These days, to maintain fitness, I regurlarly swim the 1500 metres.
---
Education
Originally from Midleton in East Cork, I hold an BSc Honours degree in Applied Psychology from University College Cork, where I then worked as research assistant for a number of years, before heading for New York .