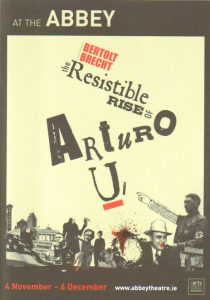 Theatre: Fay brings fresh life to Brecht classic
Sunday, November 16, 2008 – By Helen Boylan
The Resistible Rise of Arturo Ui. By Bertolt Brecht, Abbey Theatre, Dublin, Until December 6
To draw contemporary parallels with the themes of economic downturn and political corruption in Bertolt Brecht's 1941 play is to miss the point of the German playwright's avant-garde work.
The Resistible Rise of Arturo Ui is unmistakably of its time – the late 1930s, when Tommy gun-toting gangsters are wreaking havoc in America and Hitler is achieving despotic omnipotence across the Atlantic.
Brecht's farce about the rise of a fictional fascist dictator called Arturo Ui, is a clever merge of the dark and the hilarious. As an announcer (George Seremba) declares to the audience at the start: ''Everything you see tonight is true; nothing is new or has been made to order just for you," he refers to the fact that each of the characters we are about to meet had a real-life counterpart.
The play is set in Chicago, where cauliflower profits are plummeting, sending ripples of panic throughout the market. In these times of crisis, morals go out the window, old partners avoid each other and men are afraid that their brothers will ask for a loan.
While society is grappling with the new economic reality, Ui – a power-hungry gangster and self-proclaimed 'son of the Bronx' – sees an opportunistic opening.
Using the superficial mantra that the vegetable trade needs protection, Ui sweeps through Chicago using extortion, threats and murder to extract a protection fee from its citizens.
With judges, lawyers and cops soon trapped under Ui's thumb, his insatiable lust for power grows exponentially.
Director Jimmy Fay (Saved, The Seafarer) assuredly handles a 19-strong cast. Pacy and absorbing, under Fay's direction the play references Jimi Hendrix, Jasper Johns and (perhaps) Gerald Scarfe. But it is Tom Vaughan-Lawlor's unflinching performance as Ui, an allegorical Hitler, that elevates this production from entertaining to mesmerising.
After he first appears on stage – all sweaty and smarmy, his slight stature doubled over, talking with a caricatured 'New Yoik' Bronx accent that hangs thick in the air – subsequent scenes in which he does not appear are ripe with apprehension for his next entrance.
Imitating Hitler's own grossly exaggerated mannerisms with a greater sense of danger than Charlie Chaplin did in The Great Dictator, Vaughan-Lawlor imbues his absurdly animated Ui with brilliantly controlled animation.
Whether he is fretting (bent over and slowly slicking down his black hair) or, in one of this production's most arresting scenes which is as funny as it is unsettling (receiving coaching in speaking, walking and sitting) Vaughan-Lawlor delivers a theatrical tour de force.
Save for a few splashes of colour in the form of red roses and meat-hooked carcasses, Conor Murphy's smartly monochromatic set, Paul Keogan's effective lighting design and a range of tautly understated performances from the rest of the cast (in particular Aidan Kelly's Roma, Jane Brennan's Betty Dullfeet and Eamon Morrissey's Dogsborough) allow Ui's exaggerated vigour to shine.
Rating: *****
http://archives.tcm.ie/businesspost/2008/11/16/story37449.asp
---
No weak links in a dazzling double act
Sunday November 16 2008
A WEEK with two inspired presentations of supremely high quality with dazzling production values is a rarity. But last week was one of those weeks,with Brecht at the Abbey, and Gogol from Performance Corporation at the Project.
Brecht can be visually and verbally heavy going; it's as though directors are in such awe of his gloomily savage message that they fear a light touch. Not in Jimmy Fay's case: his production of The Resistible Rise of Arturo Ui is a riot in several senses of the word: colourful, pacy, hilariously funny in places, but relentlessly uncompromising in its condemnation of Europe's servile capitulation to the vileness of fascism.
Fay's superb concept reeks of danger, violence, isolation and treachery as double bluff and betrayal stalk the rise to dictatorship of the twisted, psychotic Hitler/Ui, from the Bronx through the Chicago shipyards to the peaceful verdancies of Cicero (Austria). The culminating moment comes when Ui, having had Cicero's leading newspaper publisher murdered, reduces his widow to compliance by raping her young daughter in front of her, in a sickening reminder that Hitler is reputed to have raped his own niece whom he "worshipped".
It is eerily apposite that it all begins seemingly innocently: a decent businessman merely bends the rules by issuing a loan from his own company to another he has just acquired, starting a pattern of unethical behaviour which leaves the way open for Ui's dark presence. Fay is soaringly well served by a cast without a weak link in performance or characterisation. The standard is set by Tom Vaughan Lawlor's inspired portrayal of the lead role: physically rubberised, verbally running through the octaves, spiritually swooping through the depths of any hell he can find to impose on others; and all achieved on the perfection of a Chaplin-esque underlay. This is acting of extraordinary quality.
Aidan Kelly, Karl Shiels and Malcolm Adams are the three leading contenders for brutal horror, with Kate Brennan as one of the blood-spattered innocent casualties and Eamonn Morrissey as the gullible Dogsborough, both superb at the two ends of the emotional spectrum of despair, and Jane Brennan as the dignified and terrified Betty Dullfeet. But they are merely the larger stars: there are no weak links.
Conor Murphy's design and Paul Keogan's lighting are chillingly superb, as is Denis Clohessy's music. There's no credit for the excellent choreography, but Paul Burke is responsible for the terrific fight sequences.
http://www.independent.ie/incoming/no-weak-links-in-a-dazzling-double-act-1541525.html
---
The Resistible Rise of Arturo Ui
Abbey Theatre, Dublin
There is an astonishing moment in the Abbey's striking new production of The Resistible Rise of Arturo Ui that halts Bertolt Brecht's splenetic parody in its tracks, a moment so chilling that icicles form in the air.
Tom Vaughan-Lawlor as the mercurial Ui, a Chicago gangster and despot in the making, is taking ridiculous lessons from an image consultant – Des Cave's washed-up actor – and playing with his mannerisms like a child with a loaded gun.
Suddenly he hits on a particular gesture, a salute so familiar, so easy to lampoon, that it shouldn't shock us. But it does.
His arm held aloft with unnerving intensity, it slices through the innumerable references in Vaughan-Lawlor's extraordinary performance – the crumpled posture of Richard III, the Runyonesque "Noo Yoik" accent, the hyper-animation of Charlie Chaplin – and delivers not just a stunning picture of Hitler but a lesson in the dangerous allure of spectacle.
Jimmy Fay's production may arrive suffused with contextual parallels, carrying echoes of the 1929 depression and political disaffection into the present day, but its depiction of Chicago gangsters muscling in on the cauliflower business places its satiric emphasis squarely on America.
Conor Murphy's design, a starkly impressive picture of industrial grey recesses lined with vegetable crates and meathooks, also finds room for American iconoclast Jasper Johns, whose American Flag looms over the stage, while Denis Clohessy's thrillingly effective music extends a guest appearance to Jimi Hendrix's Star-Spangled Banner , piercing though the play's sham trial scene.
Such criticism may seem heavy-handed, particularly when the American political narrative has just entered one of its most hopeful chapters.
Similarly, Brecht's allegory – written in 1941, before the true horror of the "final solution" – is stodgy with political detail, leadenly announcing its historical allusions, here delivered by George Seremba through a loudhailer.
For all the anti-illusion and distancing dictums of Brecht's epic theatre, Fay's production is most absorbing for its rich and rough aesthetic.
Presenting Ui as a 20ft judge, towering over a perversion of justice, may overstate the point, but it feeds the imagination.
Likewise, whatever Brecht's misgivings about the seduction of performance, it's the cast who hold the attention like a vice.
Ui's clownish cavorting and paranoid twisting wouldn't be so effective without Eamon Morrissey's haunted stillness as the corrupted Dogsborough, or Aidan Kelly's nerveless tough guy, Roma.
Kate Brennan and Malcolm Adams also distinguish themselves among an excellent supporting cast.
Ultimately, though, this is Tom Vaughan-Lawlor's show. His Ui uncurls at the play's beginning like an awakening monster, tears through it with bravura (anyone who thinks he's overdoing it should take a quick glance at the actual Hitler) and ends it on a pedestal surrounded by the corrupt, cowed and coerced. Brecht wrote the play to show how such creatures could be stopped.
The charismatic demon and the appalling, enthralling momentum of the show seem to say the opposite. Resistance is useless.
Until Dec 6 PETER CRAWLEY
http://www.irishtimes.com/blogs/pursuedbyabear/2008/11/13/reviews-the-resistible-rise-of-arturo-ui-abbey-theatre-dublin/
---
irish theatre magazine ../home/subscript.htm../home/subscript.htm
reviews
The Resistible Rise of Arturo Ui
By Bertolt Brecht Abbey Theatre Directed by Jimmy Fay Set and Costume Design: Conor Murphy Lighting Design: Paul Keogan Sound Design: Denis Clohessy With: Malcolm Adams, Ian-Lloyd Anderson, Jane Brennan, Kate Brennan , Des Cave, John Cronin, Peter Gaynor, Bosco Hogan, Damien Kearney, Aidan Kelly, Tom Vaughan Lawlor, Ronan Leahy, Eamon Morrissey, Diarmaid Murtagh, Ciaran O'Brien, Philip O'Sullivan, George Seremba, Karl Shiels, and Shawn Sturnick 11 November – 6 December 2008 Reviewed 11 November by Sara Keating
It would take a phenomenal intervention to make fascism seem attractive, especially in a play about the rise of Hitler. It can be difficult to think of Hitler as human let alone as sympathetic, and he was certainly less than charming. We have seen the historical footage, yet while the short, slight, moustachioed mumbler might not seem like the type of figure to pull a crowd, he did. Hitler controlled the imagination of an entire country with his unlikely ideals of an Aryan master race, as improbable as such eugenic theories seem now. Brecht's veiled portrait of Der Führer in The Resistible Rise of Arturo Ui was written in 1941 before the full consequences of Hitler's power had revealed themselves. However, in his awesome performance as the eponymous anti-hero, Tom Vaughan Lawlor manages to turn even an audience well-equipped with historical hindsight into ardent acolytes.
From his opening spidery shuffle across the stage, Lawlor's elastic Ui demands our attention. While his power and conviction grows, he slowly uncurls, acquiring physical authority as he acquires allies, sculpting straight-backed stature from a twisted posture and commanding our curiosity with deadly conviction. With a manic mix of menace and charm, he is both playful clown and crazy despot, both hilarious and horrifying at the same time. The layers of irony that this blend of absurdity and stark reality expose suffuse every element of Brecht's complex and challenging play.
It is important to stress that as much as The Resistible Rise of Arturo Ui is a dense political drama, it is also a vividly entertaining satire. The historical facts are tersely revealed by an Announcer's direct addresses to the audience, here played by a mischievous, if slightly muffled, George Seremba, dressed in full regalia of top hat, coat and tails. What unfolds on stage, however, is a 1920s gangster film, the Chicago setting serving as a microcosm for the historical events, while the ridiculous cauliflower plot underscores the arbitrary nature of the avenues explored by the human appetite for power.
Jimmy Fay's production takes a little time to find the right tone for Brecht's quite serious parody, but when it does it is compulsive and mesmerising, the pace steadily sharpened by Denis Clohessy's unsettling score as the inevitable finale eventually unfolds. Ui's transformation scene is hilariously staged, like a pantomime, as Ui studies his Shakespeare alongside Des Cave's Actor, borrowing Julius Caesar in more ways than one and arriving at his own intimidating gesture of individuality. The key trial scene is also executed with inventive brilliance: the jury tableau and Ui's giant towering judge creating a stunning visual picture of power. The 19-strong cast serve Fay's imposing anti-hero well. As Lawlor's Ui literally rises from ignominy, so Eamon Morrissey's haunted white-faced Dogsborough is gradually debilitated, finally collapsing in a wheelchair with a hopeless wheeze. Meanwhile, Aidan Kelly's burly bully-boy Roma flexes his wrists with real menace, and Malcom Adam's Giri hovers unsettlingly close to the edge of sanity, both pretenders to a throne that they could not fill, even if the opportunity arose. Kate Brennan's Mollster figure, meanwhile, provides a welcome female antidote to the heady masculine world, although there is more vice than virtue under her brassy blonde wig. Finally, Conor Murphy's stark allusive set helps to establish the production's contemporary relevance. A gauzy American flag draws attention to the transparency of power, while the juxtaposition of a bloody carcass against the stars and stripes presents a visual critique of recent American military campaigns. In the wake of the recent American election, it could be argued that the production is just slightly out of date in its reach towards topicality; however that would be to ignore the very real sense of suspicion that The Resistible Rise of Arturo Ui effects. As Ui makes his rousing election speech – "and I axe you, who is for me? And just in passing if anyone is not for me, they're against me" – it is not just George Bush that springs to mind. Even with the spirit of optimism that Barack Obama's election has ushered in, it is prudent to remember that it was his rhetoric and charisma that seduced the American voters too. Ultimately Brecht's play manages to transcend its historical genesis, as the epilogue makes clear. The Resistible Rise of Arturo Ui is not merely a play about Hitler or fascism or World War Two. It is a timeless meditation on the compulsive seduction of power.
Sara Keating is a critic and journalist. She is a judge for The Irish Times Theatre Awards.
© IRISH THEATRE MAGAZINE
---
http://www.rte.ie/arts/2008/1117/theresistibleriseofarturoui.html
Theatre Reviews
The Resistible Rise of Arturo Ui
Written by: Berlolt Brecht
Directed by: Jimmy Fay
Starring: Tom Vaughan-Lawlor, Eamon Morrissey, Aidan Kelly, Jane Brennan, Des Cave, Diarmaid Murtagh, George Seremba, Karl Shiels, Kate Brennan, Malcolm Adams.
Location & Date: The Abbey Theatre until 9 December.
'The Resistible Rise of Arturo Ui', Berlolt Brecht's allegorical 1941 play, is a satire of Hitler's rise to power in Nazi Germany. Set in 1930's Chicago, it follows fictional character Arturo Ui, a ruthless and paranoid hoodlum who takes advantage of economic instability to take control of the vegetable trade through fear and the violence of his henchmen.
All of the characters and events mirror real-life people and happenings in Nazi Germany, from the gangster Ernesto Roma representing Ernst Rohm, to the warehouse fire representing the fire at the Reichstag.
The play has the stamp of Brecht's 'epic' style of theatre, it opens with a prologue outlining the main characters and subsequent plot, giving the audience a better chance to focus on the message. To further clarify the parallels between the stories, details of Hitler's rise to power are bellowed through a megaphone during set changes by George Seremba. The dramatic technique of planting extras in the audience gave an extra dimension to the play, giving you a real sense of being part of the proceedings.
The scene of the farcical trial is the most visually stunning of the play, where Ui is presented as a 20ft judge towering over the courtroom as an innocent man is framed for a deed he did not commit. Playing up the perverted justice of the times by enlarging the judge to such ridiculous proportions sounds laboured and heavy-handed, but it was entrancing to watch.
Conor Murphy's accomplished set design sees the stage strewn with meat hooks, vegetable crates and off-kilter benches, with large neon signs gliding up and down above the scenes. From a palette reminiscent of sepia toned photographs with lots of grey and brown, splashes of blood red in roses, lipstick and bloodied carcasses are all the more evocative. The costumes are wonderfully realised, from the sharp mobster suits and trench coats to the gorgeous Marilyn Monroe-esque evening gowns of the femme fatale Betty Dullfeet (Brennan).
Tom Vaughan-Lawlor's Arturo Ui is mesmerising. He is in turns hilarious and chilling at the egomaniacal gangster. His energetic performance is part clownish Charlie Chaplin, mixed with Hitler's strong mannerisms. Stooped over and frantically gesturing at all times, with a strong Chicago drawl, he puts on a tireless performance throughout. The supporting cast are all excellent, from Eamon Morrissey's corrupted and ageing Dogsborough to Aidan Kelly's brutal bad guy Roma.
Coming in at just over two and a half hours, the first act, in parts, seems bloated, but the action speeds up leading up to the interval, and the second act is utterly entrancing. The play is full of black humour – riveting and a pleasure to watch unfold due to the strong performances, flawless stage production, inspired sets and lighting and the chilling resonance it still has today.
Sarah McIntyre
---
Irresistible satire of evil gangster's rise to power
The Resistible Rise of Arturo Ui
The Abbey Theatre
By John McKeown
Thursday November 13 2008
The Resistible Rise of Arturo Ui The Abbey Theatre
Did Bertolt Brecht really believe his gangster's rise to power, paralleling Hitler's in Germany, was 'resistible'? It seems anything but.
The good guys get a few uninspiring lines while the ones who aren't outright murderers are married to greed.
But though it doesn't offer a formula for resistance to evil, this play remains one of the most powerful narratives of its eruption and accommodation. On every level, this is the best Abbey production I've seen for a couple of years.
Tom Vaughan Lawlor's Arturo is simply stunning. Imagine Jack Nicholson in full manic flow playing Charlie Chaplin as 'The Great Dictator' with Basil Fawlty's mocking body language.
Though there's plenty to laugh at, particularly when Arturo is being given lessons in voice and deportment from a tipsy ham actor (Des Cave), the tide of terror beneath his rise to the heights of power exerts an unflagging pressure.
As someone said during interval drinks, it's a scary show. And not just because Vaughan Lawlor makes Gollum look cuddly. His henchmen and partners: Karl Shiels, Aidan Kelly, and Malcom Adams radiate physical danger like bouncers soaked in Lynx body spray.
Some ensemble scenes are gloriously phantasmagoric. Malcom Adams' character is on trial for burning down a warehouse, but the whole courtroom apart from a single lawyer is in Arturo's pocket. Not least the judge, a giant bewigged puppet with monstrous hands and Ui in the driving seat. At no point is any part of the Abbey's ample stage left underused, it's shrunk and expanded with liquid facility, and even at full stretch, when Arturo is having his 'Night of the Long Knives', the empty spaces seems suffused with clouds of blood.
Director Jimmy Fay adds some Brechtian touches of his own. Given Obama's electoral win there seems something refreshingly sacrilegious in ending the first act with Jimmy Hendrix's 'Star Spangled Banner' as an innocent girl is riddled with bullets.
– John McKeown
http://www.independent.ie/entertainment/arts/irresistible-satire-of-evil-gangsters-rise-to-power-1537191.html