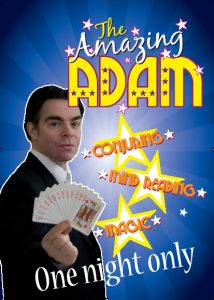 Irish Independant
'The Magic Boy' tells the story of Adam (Malcolm Adams), a civil servant who cares for his elderly mother. His world is transformed by a random encounter with a woman named Eve, which, like a magic trick in itself, changes what he believes to be real about himself into something else entirely.The secret, of course, is love, the ultimate sleight of hand; and in trying to explain it through his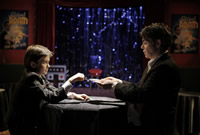 utterly compelling narrative, Adams draws the audience into the story so that we absolutely believe each twist and turn. It is this sense of constant wonder that makes this production so beguiling. It is an elegant, subtle performance from him, with all the bravura of a trickster on stage, and all the grey normality of the ordinary man hiding behind it. – Mary Coll
The Magic Boy
The Belltable, Limerick  
LIMERICK playwright and director, John Breen, proved he has the magic touch with the international success of Alone It Stands. He will be hopingto pull the rabbit out of the hat again with The Magic Boy, which premiered at Limerick's Unfringed Festival over the weekend.
The lights come up on the Amazing Adam, the lovelorn magician at the centre of the play, as he solemnly shuffles a deck of cards. Adam is a second-rate magician, who has given up a government job to pursue both a career in magicand Eve, the woman who taught him all he knowsabout magic and love.
Adam's dreams have disappeared along with Eve and his act has turned into a kitschy mix of bad jokes and cheap tricks. Enter nine-year-old Zack, the son Adam never knew he had. Zack is a natural magician and a strange bond developsbetween them.
The play's audience are involved in the card and mind-reading tricks. Magician Anthony Galvin acted as a consultant for the play. The stage set accurately reflects Adam's act, as well as the 1980's setting – a gaudy, blue glitter curtain adorns the stage, while a mirror ball and naff red carpet are the image of an Irish band hall. Malcolm Adams is powerful in his role as the two-bit magician and failed fantasist,seamlessly switching between narrative, dialogue and his character's private and on-stage personae.           
Joe-Joe Gilvarry, who had previously only acted in school plays in Killala, Co Mayo, is arresting in his portrayal of the title character. Poignant, endearing and funny, the play works its magic on the audience.
Pamela Duncan
---
The Magic Boy
Written and directed by John Breen
Yew Tree Theatre
Set & Lighting Design: Marcus Costello
With: Malcom Adams and Luca Murphy
36 Cecil Street, Limerick (Belltable's offsite studio space) as part of Limerick Unfringed Festival 200930/31
January and 1 February, 2009
Reviewed 1 February
By Rachel Andrews
Irish Theatre Magazine
John Breen's new play is ostensibly a drama about the art of the magic trick -learning it, performing it, losing it – but it is really a play about rediscovering the magic, or the meaning at the heart of life. If one takes the idea further still, it is also a play that appears set on interrogating the magical nature of the theatrical art form itself.
In doing so, Breen is, of course, employing none too subtle a metaphor to evince his message. And indeed, there is much that is imperfect about this play that brings together an impure, all too human Adam and Eve and offers them up a magical lost child as their saviour.
Not all plays have to be perfectly well-constructed to work, however; not all narratives need a dense, layered web of meaning. Breen's drama succeeds largely– but significantly – through its creation of a mood, a muted, meditative atmosphere that draws its audience into an illusionary other world and holds it in a transformative place for the length of the play.
For this one has, to a large extent, to credit the performance of the superbly well-cast Malcolm Adams, who controls this effective one-man show without ever becoming an overpowering presence on stage. Instead, Adams appears to have grasped the soul of the piece – the point of which is to transport onlookers to a different state – and turns in a downbeat, yet emotionally compelling display that is all but impossible to turn away from. With his thick eyebrows and salt and pepper hair, Adams is perhaps an unlikely leading man, but his wistful,serious-comic delivery has an intensity and magnetism about it – in the same way, perhaps, that the performance of the best of magicians might do.
Malcolm Adams and Luca Murphy in John Breen's production of The Magic Boy
Breen's narrative pushes the character of Adam towards magic, and towards Eve,the perpetrator of the magic. She is his leader, his teacher and, like the oldbiblical story, his temptress. He leaves the solid world of work in CommunityWelfare to pursue his dream of her and his dream of wowing audiences with hisskills, although he ends up performing, for the most part, in community hallsand nursing homes rather than under the bright lights of 'The Late Late Show'or as a support to musician Red Hurley.
Breen's script, but most particularly the set and lighting design work of MarcusCostello, captures the shabby, dishevelled atmosphere of the cabaret circuit in1980s Ireland. All red carpets and curtains, and racing, dancing lights,evoking the type of dingy dancehall we have all encountered at some point,Costello's creation is at once melancholic and entrancing, a little like themain character himself.
The drama weaves in and out of the primary storyline, as Adam breaks off from the tale of his past – how he met Eve, how he loved her, how he lost her without knowing why – to perform live magic tricks. As he does so, he transforms his persona from a downcast, increasingly bitter no-hoper, into a kind of showman who can entrance an audience, encouraging them to believe in his magic-making and gasp in wonder at his artistry.
There are inconsistencies in the narrative; Adam's mother and her subsequent death loom large in the storyline, but they do so all of a sudden, without warning, and her purpose within the drama's overall structure is largelyunclear. Meantime, it is hard to see exactly what kind of journey Adam has taken by the end of the play; he may have won his Eve back, thanks to the arrival of his long-lost son (played by the charismatic Luca Murphy), but because he does not have to overcome any particular personal obstacles to do so, one wonders how much he has actually learned about himself.
Magic is part of the fabric of the theatre: when a drama is succeeding, anaudience, enthralled in the moment, willingly suspends its disbelief,encouraging actors to rise to new heights of artistry, and allowing forsomething sublime to happen. In considering what takes place within thetheatre, Breen is reminding us of the importance of the medium within oursociety. Theatre is magic, and magic has meaning. In going to the theatre, inremembering that it holds a fundamental place in our lives, we are givingourselves the opportunity to experience a little bit of magic, if only for awhile.
Rachel Andrews is an arts journalist and critic based in Cork.
http://www.irishtheatremagazine.ie/Reviews/reviewsTheMagicBoy.htm
---
Limerick Unfringed Festival: The Magic Boy
36 Cecil Street, Limerick
SARA KEATING
Magic provides the metaphor for human connection in John Breen's new play, The Magic Boy . Shaped as first-person confessional by professional magician Adam, the play unfolds on a miniature, tinselled theatre stage. This is Adam's final gig, and as he charms the audience with the occasional memory trick, he seems more concerned with revealing the grand deceit at the heart of all magic. The illusion is created by the viewer, he insists. Magic is merely manipulation.
Breen's writing is engagingly allusive in the first half of the play, conspiring mysteriously towards a big reveal, which unfortunately is never forthcoming, and in the second half of the 80-minute piece, with the appearance on stage of the eponymous magic boy (played by Joe Joe Gilvarry), the play descends into a trite tale of sentimental redemption. The big problem is that Adam has nothing to atone for. It is he who has been duped, he who has been manipulated, not merely by magic, but by the archetypal fallen woman, Eve.
What keeps The Magic Boy alive, however, is Malcolm Adams's edgy performance, as he plays Adam with a "desperation like drowning". As Adam, he philosophises about how a magician "re-directs your gaze away from where the magic happens", and this is what Adams does with his own artful performance. It is an unnerving, natural performance that keeps the audience ill-at-ease as he moves between performing tricks and revealing his own story. It is a pity that the narrative does not facilitate a deeper exploration of the emotional vacuum that draws Adam into the artifice of magic – the artifice of Eve – in the first place.
Marcus Costello's set and lighting creates an intimate cabaret environment in the Belltable's temporary theatre space at 36 Cecil Street. The stage is framed like a puppet show, and an old-fashioned carpet thrusts the performance area down towards the auditorium floor, creating a sense of inclusivity between Adams and the audience. And it is in this sense of connection – fostered foremost by Adam's raw, open and vulnerable performance – that the real magic of the evening happens.
Run finished. Unfringed runs until Sat.